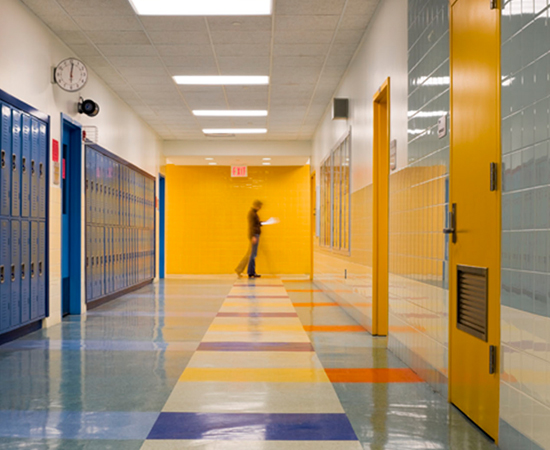 Gran Kriegel's long, rich history with successful school designs has led to award-winning new construction, adaptive re-use projects, and renovations for public, private, special needs, and charter schools.
For decades Gran Kriegel has served as a trusted K-12 architect, working hand-in-hand with major school agencies, including the New York City School Construction Authority, and directly on architecture and interior design projects with charter schools, independent schools, and special needs schools, including YAI's Manhattan Star Academy in NYC. We've managed countless projects, including site selection, test fits, feasibility studies, planning, adaptive reuse projects, renovations and repairs, new building construction, sustainability and green design, code compliance, and construction administration in the educational sector.
Our designs address educational institutions' increasing need for spaces that can serve multiple and diverse uses while adhering to strict budgets and schedules. Whatever the program, site, or budget, our architects have encountered similar projects over the years and serve as a valuable resource in examining solutions that balance institutional needs with the need to create an up-to-date and technologically forward-thinking school environment that encourages both learning and fosters student friendships through social spaces.
Read More

From the design, planning, and construction of entirely new schools to science lab, gymnasium, and auditorium renovations and feasibility studies, Gran Kriegel understands the need to match educational programming with the physical learning environment. Our years of experience in this market ensure that we are a knowledgeable and conscientious partner for all manner of educational projects.

We've also worked for specialty schools such as YAI's Manhattan Star Academy to create purpose-driven designs that serve special needs students. We strive to incorporate new research and technology to create bespoke school environments that are tailored to the unique student body making up each school we work on.